Mazda to electrify all IC engines by 2030 as rotary range extender draws near
Rotary engine at heart of Mazda electrification plan
Rotary club: The 2015 RX-Vision concept had sportscar fans salivating over what might be in Mazda's future model program, but there are no signs yet that rotary power will be used for anything other than as a range extender.
MAZDA Motor Corporation (MMC) has confirmed its famed rotary engine will make a comeback as a core tenet of its strategy to electrify every vehicle it produces by 2030 – but it will not mark the long-anticipated return of a rotary-powered sportscar gone missing since the RX-8 retired in 2012.
As GoAuto has reported, Mazda revealed a year ago that it was well advanced in developing an electric vehicle that would be available with battery power alone and as a range extender that adds a rotary engine to recharge the battery and increase the driving range.
The vehicle in question and technical details remain under wraps, however MMC has this week announced that its entire range of internal combustion engines – to which it remains committed for the foreseeable future – will be combined with some form of electrification by 2030, accounting for 95 per cent of the vehicles it produces.
The other five per cent will be made up of battery electric vehicles.
This commitment is part of Mazda's longer-term strategy to achieve a 90 per cent reduction in its corporate average 'well-to-wheel' carbon dioxide emissions by 2050, compared to 2010 levels.
GoAuto understands that the all-new EV and range extender are now set to be released in 2020, while a 'mild hybrid' system with an electric starter motor/generator will emerge next year.
As part of the same strategy, Mazda will next year introduce its hi-tech SkyActiv-X compression-ignition petrol engine – a world-first application for mass-produced powertrains that is billed as being as efficient as a diesel while improving power and driveability over current petrol units.
The company is also developing a plug-in hybrid powertrain that is expected to reach production by 2021.
In a statement, MMC reiterated that the newly developed range extender will be powered by the company's "small, lightweight and exceptionally quiet rotary engine" which is designed to run on both unleaded petrol and LPG.
"The concept behind the rotary-powered range extender was to leverage the rotary engine's small size and high power output to make multiple electrification technology solutions possible via a shared packaging layout," the company said.
"Mazda will strive to reduce carbon dioxide emissions and enhance the joy of driving by deploying compact, lightweight electrification technologies while further refining the internal combustion engine, which is forecast to be equipped in the majority of new cars for many years to come.
"The company will introduce electric vehicles as the optimal solution in regions that generate a high ratio of electricity from clean energy sources or restrict certain vehicle types to reduce air pollution."
Speculation that Mazda was preparing to return to rotary power for an all-new sportscar was heightened with the unveiling of the RX-Vision concept at the 2015 Tokyo motor show.
But MMC's global R&D chief Kiyoshi Fujiwara confirmed to Australian journalists in Germany last year that the Japanese manufacturer was developing the rotary, in-house, as a range extender – not as part of a new sportscar program, and not as part of the newly formed EV alliance Mazda had formed with Toyota and Denso.
Mazda engineers have been working on the rotary range extender for years, showing off their handiwork in 2013 with the RE (Rotary Engine) Range Extender prototype based on the Mazda2/Demio light hatchback.
The RE combined a 330cc rotary engine with a 75kW electric motor and lithium-ion battery pack, offering a claimed 400km driving range – twice the distance that a limited-run Demio EV released in 2011 could manage.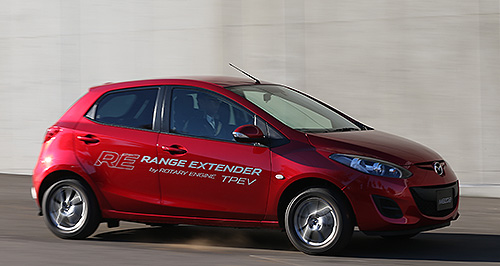 Back to Archive Automotive